The Sole Fitness company began as a manufacturer of treadmills for use at Hotel Monaco, Omni, and Hilton hotels. Given the favorable response of hotel guests, the company branched out into making treadmills and ellipticals for in-home use, bringing the same commitment to quality as they incorporated into their hotel treadmills.
Sole Fitness is located in the United States, but ships products worldwide. They makes six different models of treadmill, along with six models each of exercise bikes and elliptical equipment.
Every piece of equipment is manufactured with the very best materials, and supported by one of the most comprehensive warranties available in fitness equipment.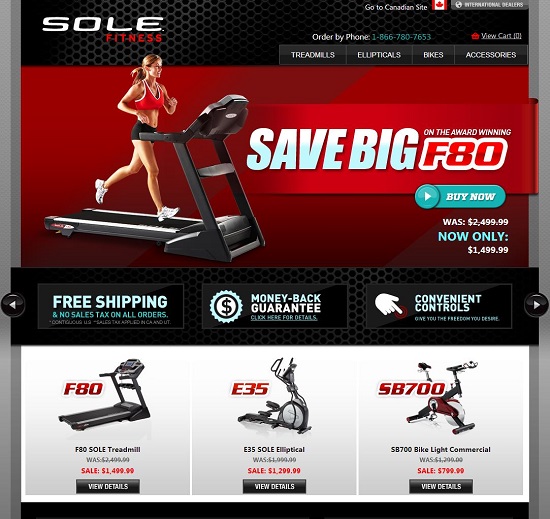 Sole Fitness Treadmills and Ellipticals
Since it all began with treadmills, let's talk about them in some depth.
Sole Fitness Treadmills
Ellipticals are, of course, the hot trend in fitness these days, but there will always be a place for the treadmill. It doesn't matter what your personal level of fitness, anyone can use a treadmill. The beauty of the treadmill is that it doesn't matter what the weather is like, you can stay motivated – no worries about having to take your walk in the cold rain, blinding snow, or blistering heat of summer.
The conditions will always be perfect for a long walk, jog, or even a run.
Sole treadmills are built from only the finest of components – the steel, belts, rollers and motors have all be extensively tested and proven to stand up to the most rigorous hotel use, and have the feeling of quality that you'd expect to find at a health club or gym.
Popular Sole Fitness treadmills include:
Sole F63 Treadmill
Sole F80 Treamadill
Sole F85 Treadmill
The best selling Sole F85 treadmill boasts a 22" deck and a 3.5 horsepower engine. With the mere push of a button, the exerciser can boost his or her speed up to 12mph, and the machine can be used by people who weight up to 400 pounds. For your personal comfort and enjoyment, this treadmill comes with cooling fans that are built in, and also a sound system that permits you to listen to your iPod or MP3 player while you work out. Additionally, there's an option that calculates your recommended heart rate automatically. The machine is super-quiet, and folds up for easy storage. This is just one of the models available from Sole Fitness, but it's fairly representative of what's available.
All Sole Fitness treadmills feature CushionFlex technology, which reduces the impact on your joints by 40% in comparison with road running. Many competing brands offer only a 15% reduction. Another feature that's unique to Sole Fitness treadmills is the horseshoe that allows for greater stability.
Sole Fitness Ellipticals
Sole Fitness elliptical machines serve to increase endurance levels by modulating the frequency and intensity of the workout in time with the change in a person's weight (the benefits of ellipticals). Elliptical trainers vary greatly in their appeal to the general public. Since their introduction, elliptical trainers have seen rapid development. New models, including additional exercise modes, advanced motor control technology, and wireless connection, are continually being developed. Market research has established that today's elliptical trainer models appeal to all age groups. The elliptical trainer has gone through several stages of development: Early designs, which used a single pulley to drive the wheel, had poor efficiency, often requiring the user to replace their wheels several times a year due to wear and tear and lack of control over the speed and resistance of the device.
Popular ellipticals from Sole Fitness includes:
Company Warranty Policies
When it comes to warranties, Sole Fitness has the best in its class.
There's a 30-year warranty on the motor
5 years on the electronics, rollers and belts
A lifetime warranty on the deck and framing
Sole also covers labor costs to fix the treadmill or the elliptical if it breaks within two years.
In addition to the warranty, Sole Fitness offers customers a 30-day trial on any equipment that they manufacture. If a customer is, for any reason, dissatisfied with their purchase, they can contact the company to arrange to have the equipment shipped back.

As long as the return policy is adhered to, Sole will refund the full purchase price, and pay the shipping.
Summary
If you're looking for a commercial-quality treadmill or elliptical at a reasonable price, you can't do better than Sole.
Quality equipment and an outstanding warranty combine to guarantee your satisfaction with your purchase, and the 30-day trial period means that you can purchase a Sole treadmill or elliptical safe in the knowledge that you're not incurring any risk.
If you're dissatisfied, you can always get your money back from the Sole Fitness company customer support.