Thank you for taking the time to visit my site, elliptical cardio dot com, if you had a look around, you will have noticed that I talk about health, elliptical training, the elliptical machines and fitness.
First, this has been a happier year for me than last year, and I'm grateful for all the good things I enjoy! I have enjoyed visits from several friends and relatives and do love showing them around this beautiful corner of the world.
Now, I'm a physical therapist and member of American Physical Therapy Association.
And, if you have any questions about my site, please visit my contact page.
If you have any questions at all about anything, or even suggestions, the above link is the best place to direct them.
Sadly, I have no idea how you found my site. Although I really want to know, I assume there is no prize for correct guesses, which means you found my site interesting. Our site is a constant work in progress spanning years. We filled our site to the digital brim with content covering a multitude of different fitness related issues. Although we only receive about 300 visitors a day, I have been quite happy with the response and have been inspired to continue expanding my site into the future.
Our fitness and health reviews are actually the most popularly read items (for example our newest Sole E95 elliptical review) that we feature.
I really do hope that you find the information here valuable, helpful, and useful.
It is, after all, the entire purpose of our site.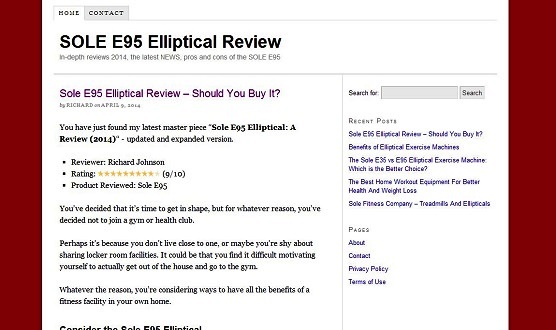 We want to ensure that our readers make well-informed and smart decisions based on what we spend time researching. By saving you time and money, we actually feel better, and make a stronger effort to continue our research on elliptical, fitness, and treadmills.
Rest assured, we continue to view from every possible perspective the different types of elliptical, treadmill and exercise equipment, as well as their associated brands (such as Sole fitness).
We enjoy finding scientific information, new and old, regarding the benefits of living healthy and exercising.
In short, we would like to request that you bookmark our site (so you can easily access it) and check back on a regular basis. We are always adding new information, and in the coming months we intend to add a great deal. We always promise that you will receive the best information on health and fitness.
Although this about page is helpful, it does not hold a candle to the rest of the site, so we encourage you to browse the rest of the site.
We hope that you find some very useful things here!
If you have any questions, comments, or concerns, please contact me on the aforementioned page.
You can also simply click here to access the contact page.
You may not see a way, but God still has a way, it may look impossible, but God can do the impossible.
-Richard Johnson, www.ellipticalcardio.com

PS. Also, if you have any information regarding elliptical machines, cardio or physical therapy, that would be a contribution to the site, please let me know! I would love to hear about it. I started this blog as a part of a business venture I'm currently participating in and under the pseudonym of Richard Johnson.